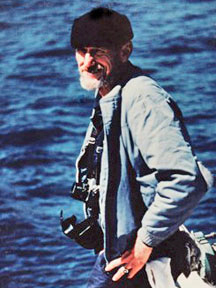 Bill M. Connally
August 27, 1929 – November 22, 1987
Bill founded Island Packers in 1968, and was the inspiration behind TMRE in 1981. He was self taught in almost everything he became proficient in, and never was long without new ideas. Education and research were most important to him, and he introduced thousands of children to oceanography with the floating classroom program started in 1969. He organized the first research voyage of TMRE to the Pacific Islands of Baja California in 1983, and was recognized for his tremendous and selfless efforts to promote the natural history of Channel Islands National Park.
James Stephen Leatherwood PhD
1944 – January 25, 1997
Steve was a friend since 1968, and a board member of TMRE since 1985. He was known worldwide for his marine mammal research, and prolific publishing of scientific papers. Most importantly, he loved people, and liked nothing better than a large diverse group of folks working together towards a common goal. He once said his goal was to be well known for his work, travel the world, and satisfy his soul. I think he accomplished all three, even though his life was cut terribly short at 53 years old. He was an inspiration during 29 years of friendship, and continues to be an inspiration long after his passing.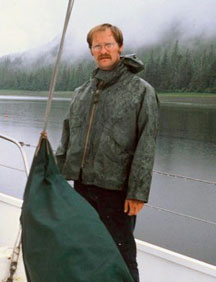 Captain John Ralph McGuire
September 16, 1951 – February 6, 1999
Captain John left us unexpectedly in 1999 shortly after returning from sea sailing as chief mate on a ship delivering grain to India. He was a great friend for almost 30 years since we met as cadets in 1970 at the California Maritime Academy. John had a long career in the Merchant Marine on ships of all sizes, and became an unlimited Master. All who knew him appreciated his brilliance and sense of humor. He was always there and ready to do a good deed, and made many of our early research voyages possible, both in Alaska, and the Sea of Cortez. As "Captain Video", he dutifully recorded our entire 2 month research voyage to the Sea of Cortez in 1985, and many are the times when John volunteered to make the "uphill" return voyages. We will always miss his wit; laughing to the point of tears; and great stories.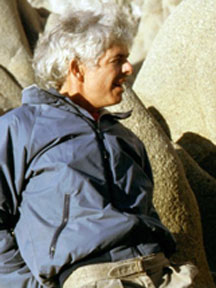 William S. Godfrey
October 4, 1946 – June 6, 2005
Will was a free spirit that easily went from ranching to voyaging, and back again many times. Whenever there was an adventure at hand, Will was always ready to participate.He spent long hours helping researchers, washing dishes, doing lookout duty and taking marine mammal census. On our first voyage with him in 1985 to the Sea of Cortez, his favorite place to sleep was in the folds of the jib on the bow where he could hear the dolphins riding the bow wave. We all enjoyed his good humor, and his interest in all things natural. Will was always supportive of our efforts, and was a friend to all that knew him. He spread harmony when there was none to be had, and could turn the worst meal into a gourmet delight with one of his sauces. We'll miss our friend Will.